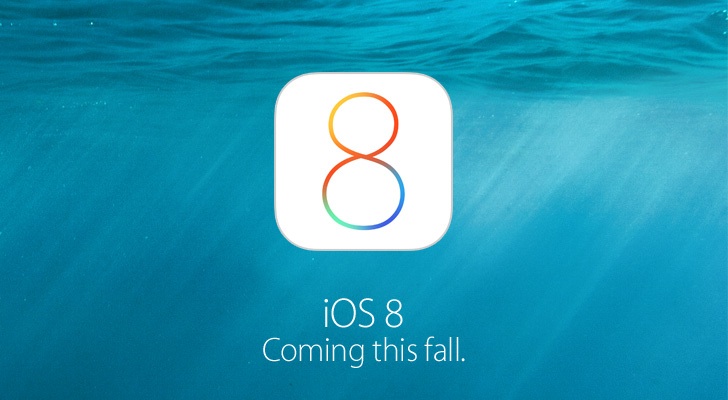 Apple has announced their plans for iOS8 and it brings the biggest change in API and features, since the original iOS SDK, which allow developers to build apps that haven't been possible thus far. And with iOS 8 just around the corner, I'm here to sum up how your applications would benefit by fully adopting it.
App Extensions in iOS8
Let's start off with a big one – iOS8 apps can now communicate with each other, access each others' files and perform tasks for each other. All of that functionality can be summed up in a couple of types:
Widgets!
Finally iOS8 has added supports of widgets! Living in the Notification Center's Today view, they enable people to get information about your app at a glance, while also providing a way for your users to briefly interact with your app, in order to accomplish a common action that your app might explore.
Share extensions
You're building out the next great social network and you want people that have your app to be able to share content on it system wide, well now you can do that with the new share extension. It provides a convenient way for your users to share content on your service, as if your service has been integrated into iOS8 itself.
Actions
Action extensions let your apps hand off work to another app or provide a way for other apps to take advantage of a particular feature or action that your app provides. Your users can use other apps to access your app's particular feature, like editing an image in a particular way, styling a document or translating text.
Photo editing
With the photo editing extension, your app can now modify the users' images in the Photos app, using your custom image processing functionality. With that the user can apply that patented filter of yours to every one of their photos directly.
Storage provider
Your apps can now access any document or media that other apps provide. If your text based app wants to style a document that the Pages app has, it can now edit it or even copy it to your particular app and modify it in any way. Alternatively your app can expose its files, so your users can access them from similar apps. You can even move files to and from the new iCloud drive.
Custom keyboards
The last of the extension is custom keyboards. Have you ever wanted a custom keyboard developed? Well now you can provide your users with the custom keyboard of their dreams. A keyboard with all new emojis? Done!
Touch ID Authentication
Apple now provides a way to tap into the Touch ID sensor and let your users authenticate themselves into your app. Gone are the days where they'll have to type in passcodes or provide passwords to access your services.
Game development
With Metal, iOS8 now provides an extremely low-overhead access to the hardware, which enables us to achieve incredibly high performance graphics, which would bring your games to a whole new level.
And with SceneKit 3D games have never been easier to develop on iOS. It simplifies 3D development, so that you could focus on bringing your game to life, instead of getting bogged down in low-level APIs.
HealthKit
HealthKit enables you to develop the next great health and fitness tracking app, by accessing all of the data that iOS8 has gather about the user, without having to add support for fitness-tracking devices. With HealthKit, if a measurement is too high or low, you can automatically alert your user to take action or you can even contact their doctor, so that they'll be aware of the user's condition.
HomeKit
HomeKit brings the internet of things to iOS8, it allows your user to securely control their connected devices, all from their smartphone. For example your app will be able to turn down the A/C and lock the doors, whenever your users leave the house.
CloudKit
CloudKit brings effectively free cloud solutions to iOS8. You won't have to bother with setting up server Push notifications, manage database servers, deal with load balancing or scaling issues and most importantly – paying your server hosting provider.
Handoff
With Handoff, you could tie in all of your users' devices in one coherent user experience. Your users would be able to pick up any of the work that they've been doing on their iPhone and continue that same work on their iPad or Macbook without losing any progress.
Location improvements
Apple has brought indoor location to iOS8, which will enable your app to be smarter about what floor, in a multistory building, your user is on. Imagine tying in that information to HomeKit, so that you could control lights, heating and other appliances in your users' homes, depending on the floor they're on.
iTunes Analytics
With the new iTunes analytics, Apple provides relevant information about the sales of your app, that you can't get anywhere else. AppStore app page views and subsequent conversions are important new metrics to gauge how your ASO is doing, all of it in real-time, without having to sacrifice your users' privacy to third parties. And with the new video feature, that lets you provide a quick video that highlights your app, these metrics are more important than ever. And you get all of that without you having to do a thing, for free!
New beta testing with TestFlight
And last up, with Apple's recent acquisition of TestFlight, they've integrated it fully into the AppStore experience. You'll now be able to invite 1000 people to beta test your app or your app's update, without having to deal with provisioning profiles.
Well, that just about sums up a brief overview of some of the new features that iOS8 will be bringing. Of course you should looking into updating your apps as soon as possible, so that your users aren't left waiting when all of this hits in September.
And if you feel like you'll need some help to bring all of this to your app, you could contact me and I'll provide you with a complete development solution, ensuring that your app would be one of the first to support iOS8, when it hits user devices this fall.